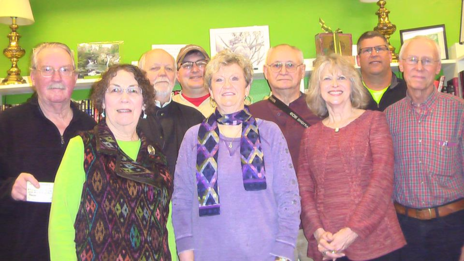 Who We Are
Front Row: Jerry Selvog, Chairman; Jan Veitch, Board Member; Judy Donaldson, Board Member; Cindi Swanson, past Vice Chairperson; Richard Jordan, Board Member; Back Row: Dr. Russell Veitch, Board Member (Founder); Todd Sahr, Bowhunter Officer; Gene Schwartzlow, Bowhunter Officer; Jim Linsley, Bowhunter Officer. Not shown: Jill Hocking, Board Member (taking picture)
What is the Edgerton Alumni Foundation?
The foundation is a nonprofit organization formed in 2007 by the alumni of the Edgerton School System to provide a means to give back to the school and provide assistance to generations of future students.
Donations to the foundation are placed in a trust fund where the income generated is used to support special educational projects in Edgerton. Money from the foundation is provided to the community on an annual basis, with the decision regarding dispersal made by the governing board. This board is made up of alumni charged with the responsibility for administrating the funds.
Who Benefits From the Foundation?
The most benefit goes to the future generations of students who deserve the very best education that we, as a community, can provide. The individual donor benefits by knowing they helped educate Edgerton students.
Serve on the Board
We are also looking for younger (under the age of 60) individuals to serve on the board of the foundation. This is a dedicated group of individuals from all walks of life that are grateful for the education they received in Edgerton. If you are interested, please contact the Alumni Foundation at 608-290-9621. If there is no answer, please leave a message.
Board Officers
Chairman of the Board/Data Manager: Jerry Selvog
Vice Chairperson: Shelly Hutchison
Treasurer: TBD (Interim: Jerry Selvog)
Secretary: Nancy Durgin
Board Members at Large
Gary Durgin, Judy Donaldson, Dr. Russel Veitch, Janice Veitch, Jill Hocking, Cindi Swanson, Gene Schwartzlow, and Jeff Roethe